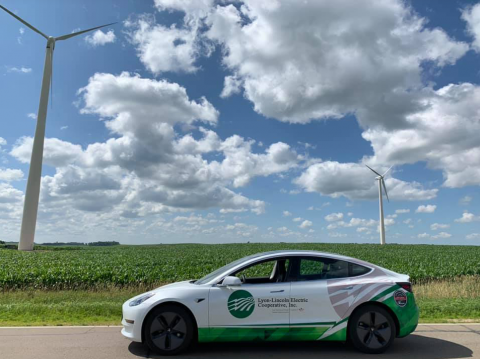 In May of 2019, Lyon-Lincoln Electric Cooperative leased a 2019 Model 3 Tesla.  We've been seeing a lot of information floating around about Electric Vehicles (EVs) and wanted to gain first hand knowledge about how they would work in our service area.  Electric vehicles are the technology of choice for eco-friendly car buyers because they have no emissions tied to their operation; they can be powered with clean, renewable energy; and even when charged with power from nonrenewable sources, the inherent fuel efficiency of electric motors versus internal combustion engines means they release less carbon per mile (when similar vehicles are compared).Charging the EV seems to be the subject we get questions on most often.  Without a local, public fast charging station, how practical is the vehicle in our rural region.  The Tesla Model 3 with long range batteries that we chose can get up to 310 miles on a full charge, so driving throughout our service territory or to meetings in Sioux Falls or Minneapolis hasn't been a concern. We decided to install a level 2 ZEF Energy Charger in our garage at the office.   This allows us to charge the Tesla overnight.  It also allows us the flexibility to add another EV to our fleet in the future.  The charger we selected would work in most homes or businesses.  Its a 240v, 40 amp charger, that delivers enough power to fully charge our EV overnight.  
The network of public charging stations is growing daily, with many new players entering the market as adaption of EVs grows.  www.plugshare.com is an excellent resource to find charging stations available throughout the country.  
The Treasury Department has revealed which cars will be eligible for the new electric vehicle tax credits. Fewer models are eligible for the new subsidy than in previous years, but some of the most well-known EVs still qualify.
Under the new rule, consumers can get up to $7,500 back in tax credits on eligible cars.  The list of eligible new and used EVs will be updated at www.fueleconomy.gov.
To learn more about our EV project send us an email at email@llec.coop or give the office a call.